In this blog article, I want to give you an understanding of what Parashift is currently, what the document extraction solution allows for and how it can be integrated. Last but not least I will also go into the pricing.
What can Parashift do for your Purchase to Pay processe?
With Parashift, we offer you an extraction solution that enables you to classify and extract data from over nine different Purchase to Pay document types such as offers, orders, delivery notes, invoices, etc. The data extracted from these documents is then delivered to your downstream processes in your ERP system, for example.
In comparison to other solutions on the market, we not only classify the different documents and read out the most relevant fields based on the classification, such as the supplier, recipient, document date and number, amounts including partial amounts, tax and tax rate and item data, but we also take over the complete follow-up validation and correction of the values recognized by the machine. This guarantees you the highest quality, frees you from tiresome and costly data entry work and enables a higher robustness of the process automation, which is based on the initial document input.


Before I show you the platform, here is an overview to illustrate what we do in the background.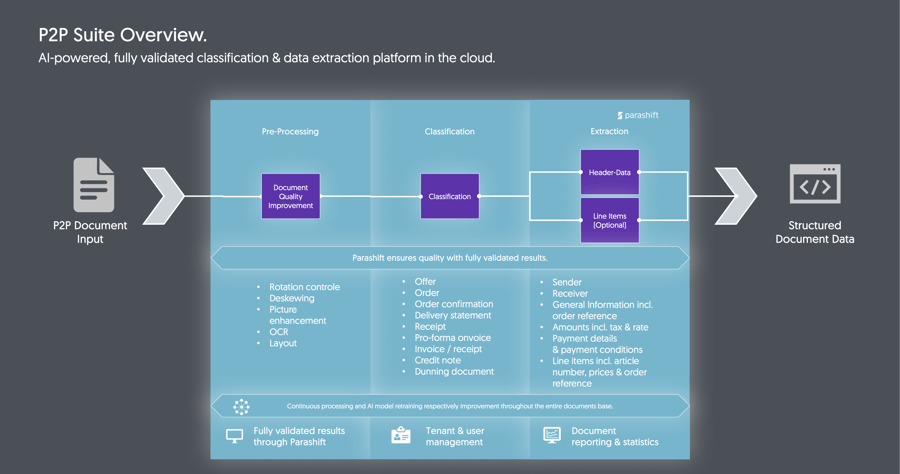 In normal operation respectively production, you send documents via a REST API to the platform, where we perform quality improvements. This means, for example, we do a rotation, should the document be upside down, we improve the quality of the image if necessary and of course we do an OCR and layout creation. This is followed by classification, where we identify what type of document it is. Finally, we extract the most important data in order to create a uniform, structured data format from the unstructured documents, which can be transferred to any downstream systems.



In addition to header data such as the address of the supplier and recipient, reference numbers, delivery data, total amounts including tax rates and payment details, we also extract the individual item data with all relevant data such as item description, item number, quantity, unit price and, of course, references of the items to orders and delivery notes, which are essential for compound entry and order reconciliation. At the end, you receive a structured JSON file back via our easy to implement REST API. The whole process, including checking, takes a maximum of three hours on working days between 08:00 and 17:00 CET.



The advantages of the solution
In addition to the post-processing, which we do for you, we also offer
a solution that works out-of-the-box, without setup and configuration work and especially without an initial training project
a quick & easy integration with your ERP, document management, workflow, ECM system or other business software using our REST API and optional Webhooks
transparent transaction-based pricing - there are no costs other than the costs for processing your documents. So with us you also save high acquisition costs and all server, maintenance or support costs
in other words, with our cloud setup you get a top-notch OCR software at minimal prices. And that even includes post-processing respectively validation of extraction results.
Brief insight into the user interface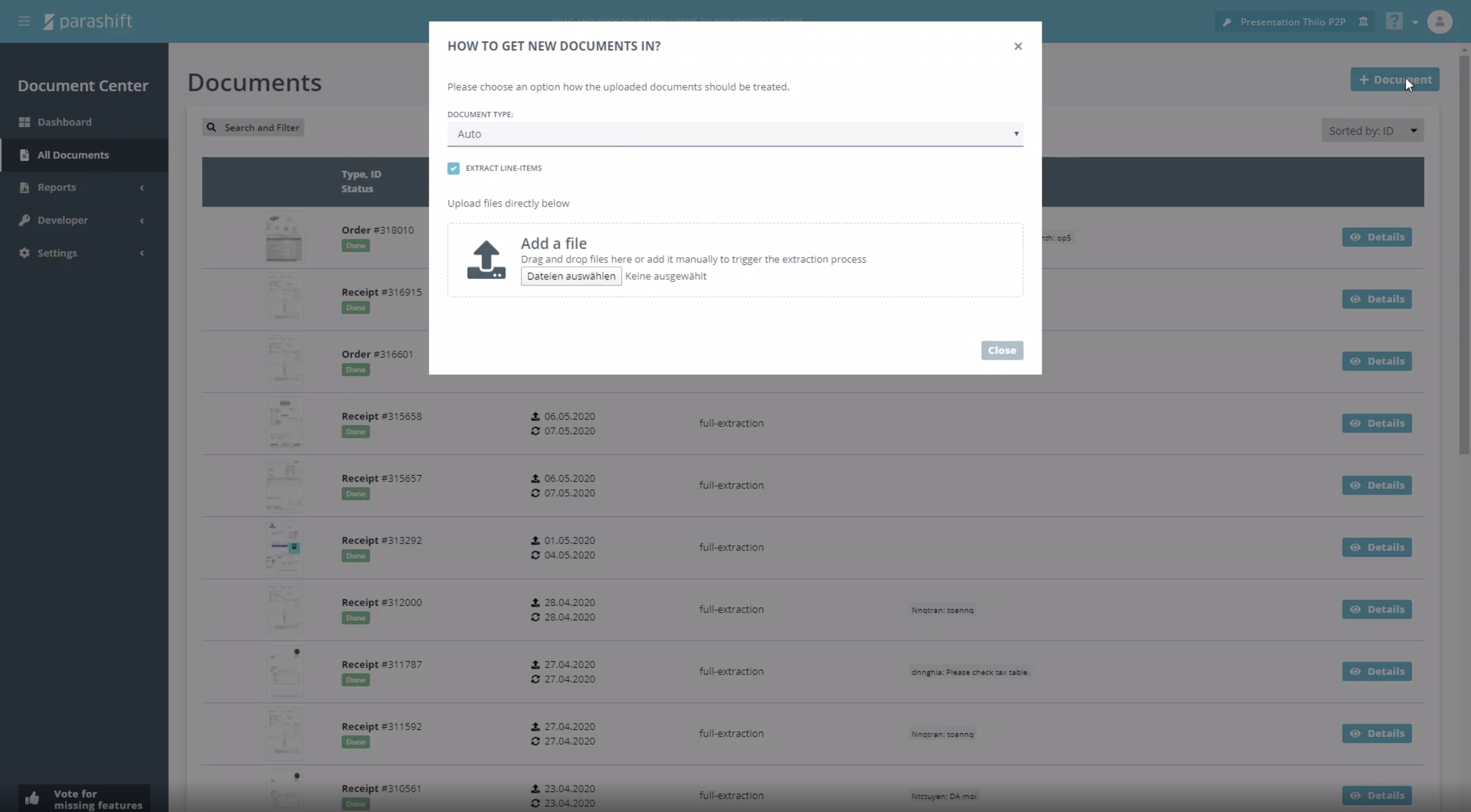 Now let's take a look at the graphical user interface, which you will not need in normal operation. You can upload documents here, especially if you start a test run afterwards, by clicking the button in the upper right corner of the screen. When uploading via the dialog, which you can see here in the screenshot as a popup window, I can specify, like when uploading via our REST interface, whether line item data is to be extracted and whether the document is to be classified or I already want to specify a fixed document type myself. Afterwards, documents go into processing.
As already mentioned, we will deliver back the fully controlled and completed extraction results after three hours at the latest. In the background, our system goes over the document and interprets the relevant data to be extracted using machine learning on the basis of all documents we have ever processed.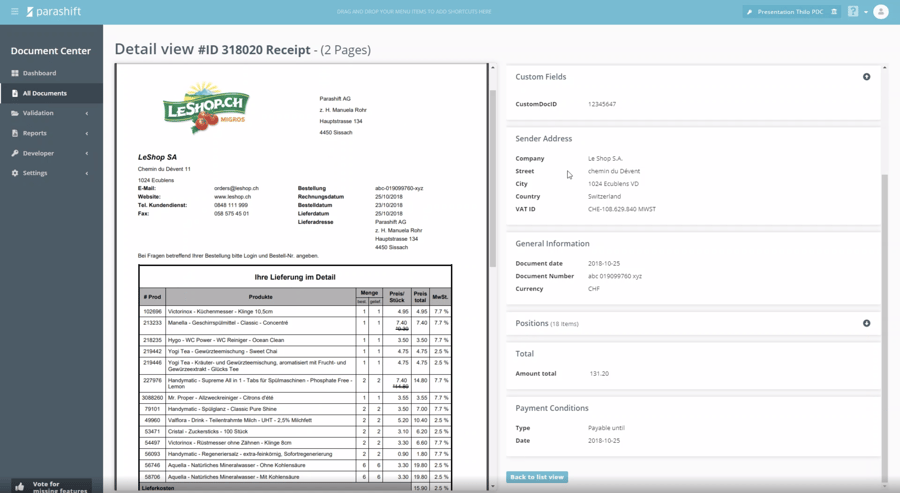 In this example of an invoice, we see that the supplier has been recognized, as well as various other header data: Invoice date, invoice number, currency, items as well as the total and the terms of payment. However, it is yet possible that errors may have occurred in here and the machine was not sure whether it really did its job correctly. Cause today, no machine is capable of delivering flawless performance across all documents. At least not yet.
Nevertheless, by applying machine learning methodically in a new way and to an unprecedented extent to documents and thus benefiting from a swarm learning effect, we are step by step coming closer to our vision of autonomous document processing (i.e. perfect results without human interaction). We are therefore convinced that over time, we can take more and more human work out of the process and pass this cost saving on to you as our partner or client.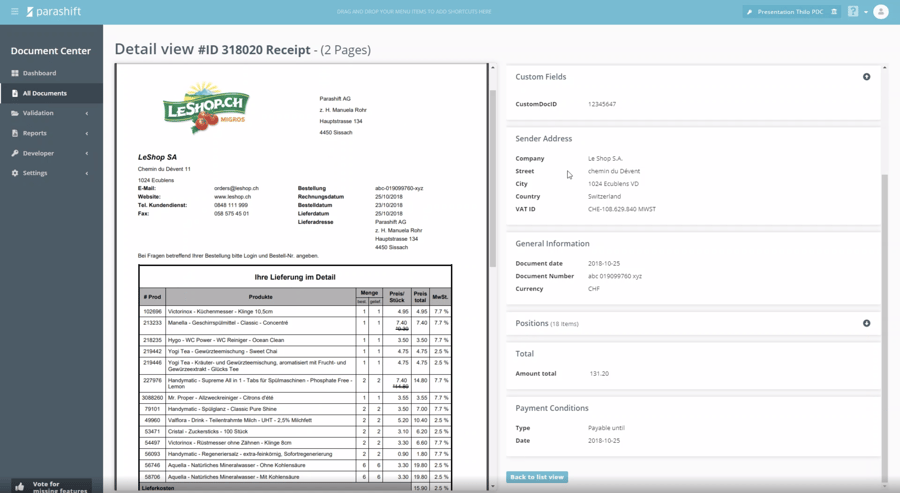 I have also prepared the post-processed version of the uploaded invoice here. So this would be the kind of data quality you can expect from us. Unlike before, we also have the invoice recipient here, who was not extracted by the engine. The service date was also added. The item data has been added in more detail, as has the breakdown of the total amount according to the various tax rates and net and gross amounts.
Based on this metadata, you should therefore be able to post the invoice largely automatically. As an alternative, thanks to the line item data, you can reconcile the invoice directly with your internal purchase order and evaluate whether the vendor has actually invoiced on the terms and conditions on which you ordered.
How to integrate Parashift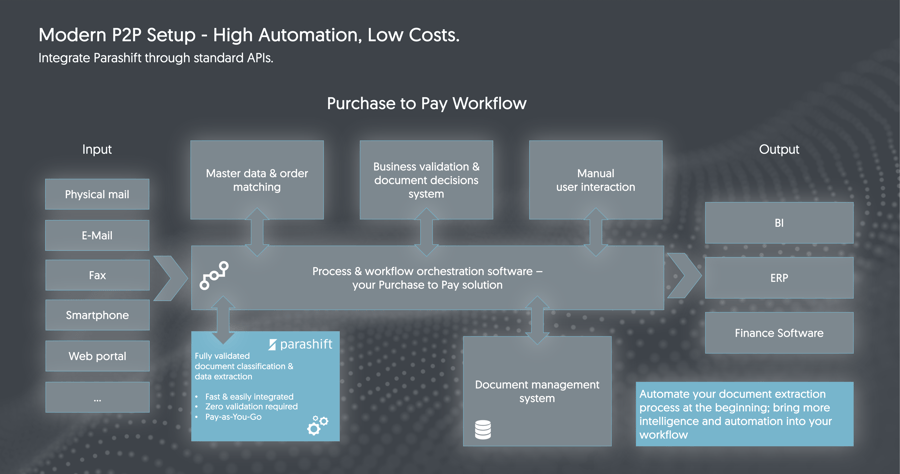 The integration of Parashift is normally done somewhere at the beginning of a given input process. Electronic and physical documents come through the various channels into a leading system - this can be an ERP, document management, workflow system or other business software where you run your accounts payable workflow or P2P process - and we sit in the background respectively take care of the entire conversion to a structured format.
On the basis of this metadata, you can then do the following things in your leading system
carry out master data matchings
perform order reconciliations
define your own business rules
create posting proposals
or automate special routings for approval processes.
In most cases, you still store the document you originally received in a document management system and then only have the prepared posting data, which is processed further in the ERP system. As you can see, we are only a small but crucial part of an overall process that comes into play as an enabler for more comprehensive automation.
The costs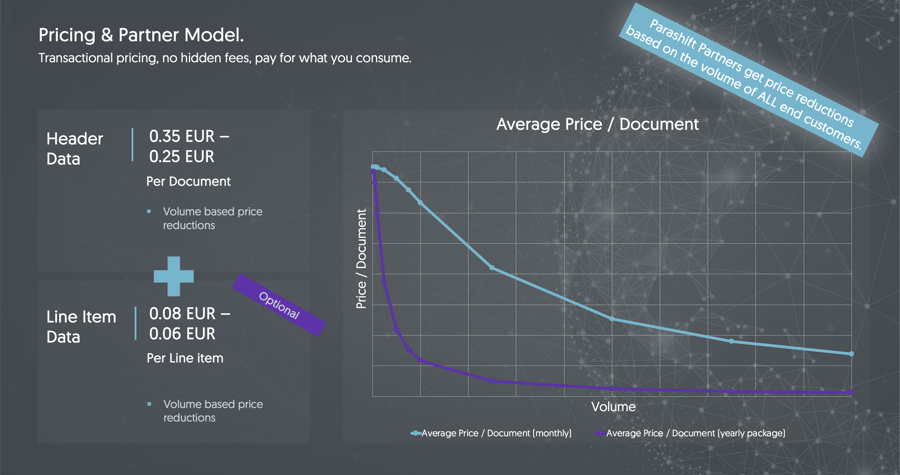 Let's move on to another topic of interest: pricing. As already indicated, we only charge a transaction fee for the number of documents processed. There are no obligatory ongoing fixed costs.
A fully validated document including classification and all header data costs between EUR 0.35 and EUR 0.25 (no matter how many pages it has), the optional extraction of item data between EUR 0.08 or EUR 0.06 per position.
The more volume you process with us per month, the lower the average price per document. For additional cost advantages, we also offer you the option of purchasing packages that grant a discount on the volume of several months. You can of course determine the size of these packages individually.
The first steps
What's next? If we have convinced you, please feel free contact us so that we can organize either a product workshop or a proof of concept. Alternatively, we can dive directly into the topic of integration and the Go-Live.
The best way to contact us is to start directly here, where you can book a meeting with Thilo Rossa, our Head Product. If you don't have a test mandate yet, please take this opportunity to register by clicking on the banner below and take advantage of the opportunity to test the solution for 14 days free of charge and without any obligation.